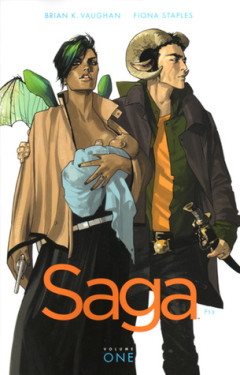 Title: Saga Vol. 1
Author: Brian K Vaughan (writer) and Fiona Staples (illustrator)
Publication Date: October 23, 2012
Publisher: Image Comics
Genre: Comics/Graphic Novels
Find It: Goodreads, Amazon, B&N, Book Depository
Source: Purchased
Rating: 5 stars – stay up all night
When two soldiers from opposite sides of a never-ending galactic war fall in love, they risk everything to bring a fragile new life into a dangerous old universe.

From New York Times bestselling writer Brian K. Vaughan (Y: The Last Man, Ex Machina) and critically acclaimed artist Fiona Staples (Mystery Society, North 40), Saga is the sweeping tale of one young family fighting to find their place in the worlds. Fantasy and science fiction are wed like never before in this sexy, subversive drama for adults.

This specially priced volume collects the first six issues of the smash-hit series The Onion A.V. Club calls "the emotional epic Hollywood wishes it could make."
Never having reviewed a comic book series before I am finding it a bit unwieldy. How do you talk about it without spoiling it for readers? The summary in the description does a pretty good job of giving readers a snippet, so I will talk more about why you should read Saga as a great place to jump into comics.
My first introduction to the work of Brian K. Vaughan came from reading Runaways. It was snarky and fun and I loved it. It was my first actual comic book series. Yes, I know I was late to the party but I am here now. Isn't that what counts?
Fortunately, when I started Runaways, I had the first eight volumes available to read. Sadly, after seven volumes, Vaughan left to work on other projects, and vol 8 was written by the amazing Joss Whedon who maintained Vaughan's vision and voice. However, after Whedon the voice changed with a new writer, and I decided to follow Vaughan rather than the Runaways, and I have been following him ever since.
What's so special about Saga? Maybe it's the magic of Vaughan's creative oddball snark combined with the incredible art of Fiona Staples, or maybe it's something more. Let's start with the cover of volume 1. There is a woman with a cool haircut and wings breast-feeding a baby. Seriously, this screams different. It definitely caught my attention, and it continued to catch my attention when within the first couple of pages the main female character Alana gives birth and comes under attack by those who are seriously opposed to her inter-species relationship. And then it just continues to get better.
Saga has quirky characters, but there is something incredibly normal in this intergalactic story, too. Alana and Marko are just like any other couple trying to figure out their relationship and life with a new baby. Now sure their babysitter is a ghost who is missing her lower half. And then Marko's parents eventually track them down, and well, in-laws are still in-laws even in space. Then throw in warring factions, political conflict, and some hot alien sex and it doesn't get much better.
Saga is the only comic that I have on Comixcology subscription because it is that good and I would rather read it issue by issue than wait for the next volume to come out. However, I have been drawing out the last couple of issues because I don't want to catch up too quickly. If you haven't picked up this comic book series, what are you waiting for?